Click for Financing! 
Offering more precise positioning, the DJI Matrice 210 RTK quadcopter is a sophisticated industrial tool. The RTK maintains the Matrice 210's power, maneuverability and adaptability to a range of industrial uses.
With RTK — Real Time Kinetics — the Matrice 210 RTK offers centimeter-accurate global positioning. RTK capability enhances the Matrice 210's ability to collect data for surveying, photogrammetry and mapmaking. That makes the 210 RTK especially useful in such applications as engineering, construction and mining.
Even in this form, the 210 RTK remains an economical solution for enterprise users seeking to add a drone to enhance accuracy, reduce costs and save time. It has the ability to carry and use two cameras simultaneously, or one upward-facing camera. An FPV camera for navigating is built in, but you can select the compatible cameras most useful in your field, including models capable of thermal imaging, high-definition video and zooming for detail.
The 210 RTK is built to IP43 resistance, so it cam be flown in the rain. It is sized to remain stable in crosswinds, with added stability from its 17-inch propellers. Its foldable body, plus removable batteries, propellers and landing gear, make it easy to store and transport in the included case.
Every Matrice 210 RTK includes:
Foldable body, removable landing gear

Foul-weather resistance

DJI Pilot Flight Program

Centimeter-accurate RTK positioning

Subject tracking

Built-in FPV camera

51.4 mph maximum speed

4.3-mile range (extendable)

20-27 minutes maximum flight with varying payloads

Remote controller compatible with smartphones/tablets

16GB microSD card; compatible with card up to 128GB

One top-, two bottom-located gimbal mounts

Automatic/manual camera control

Compatibility with range of thermal-imaging and video/still cameras

Capability for simultaneously mounting thermal, hi-def video cameras

Adaptable to dual controllers

Anti-collision Beacon


Discreet Mode


Mobile SDK Compatibility


DJI SkyPort Compatibility


TimeSync


Onboard SDK Compatibility


Ability to Power Onboard Devices


Built-in High-performance RTK Modules


D-RTK 2 Mobile Station Compatibility
Matrice 210: Powerful Quaco
Built to Endure. Engineered to Adapt.
The ultimate platform for aerial productivity combines a rugged design and simple configurability to work as a solution for a variety of industrial applications. Improvements to the M200 Series V2 enhance intelligent control systems, flight performance, and add flight safety and data security features.
Intelligent Controls
Transmission
Enjoy a more reliable and stable flight with the new OcuSync 2.0 system, which supports automatic dual frequency band switching ;and extends flight range to up to 8km
Calibration
When multiple payloads or third-party payloads are installed, users can readjust the drone's center of gravity in the DJI Pilot app, enhancing flight performance and safety.
Data Accuracy
The TimeSync system continuously aligns the flight controller, camera, GPS module, RTK module for the M210 RTK V2, as well as payloads or onboard accessories. The position data is fixed to the center of the CMOS for precise geotagging when using DJI payloads.
Discreet Mode
When the situation calls for unobtrusive drone operations, especially at night, all lights can be completely turned off in the DJI Pilot app.
Safe and Secure
AES-256 Encryption
The AES-256 encryption keeps your data transmission secure so you can be sure that your critical information stays safe.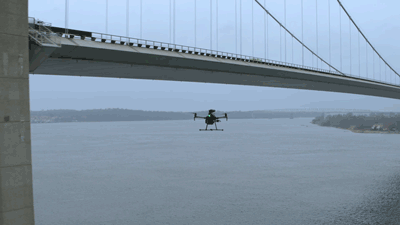 Obstacle Avoidance
A robust Flight Autonomy system with front, bottom and upper sensors detects and avoids obstacles while enabling precision hovering so that you can fly with confidence.
Anti-Collision Beacon
Equipped with new top and bottom anti-collision beacons, the V2 drones are visible at night or in lowlight conditions, making operation in less than ideal conditions safer.
DJI AirSense
With a built-in ADS-B receiver, the DJI AirSense technology enhances airspace safety by automatically providing the operator with real-time information about nearby airplanes and helicopters.
Always Ready
1-Click Upgrade
The remote controller, drone, payloads, RTK module, and RTK base station, can now be upgraded simultaneously with just 1-click in DJI Pilot or DJI Assisant 2
Dual Battery System
The self-heating battery system allows a maximum flight time of 38 minutes and an operating temperature of -20 to 50C